COVID-19 UPDATE
Yes! We are
OPEN
to all authorized patrons
.
* This information is subject to change due to the rapidly changing situation.
AUTHORIZED USE & ELIGIBILITY OF FITNESS CENTER
Great news! The Coral Reef Fitness Center has 24/7 Fitness which allows registered users access to the gym after hours; this includes down days and holidays. Access will be granted to all Active Duty Military, Guard/Reserve, Retirees, dependents 18+, and contractors. To register, please bring your CAC card to the front desk. During manned hours, eligible patrons include members with a valid I.D card and up to two guests.
CUSTOMER ATTIRE
Appropriate clothing must be worn to maintain a proper image in a military & family fitness facility.
Athletic attire and an athletic-type shoe must be worn on all activity & equipment areas.
Court shoes with non-marking soles must be worn on all court & group exercise room floors.
IMPORTANT AGE RESTRICTIONS
Please refer to the MWR Fitness Age Authorization chart below for allowed activities per age category at the fitness center. Click the image for a larger view.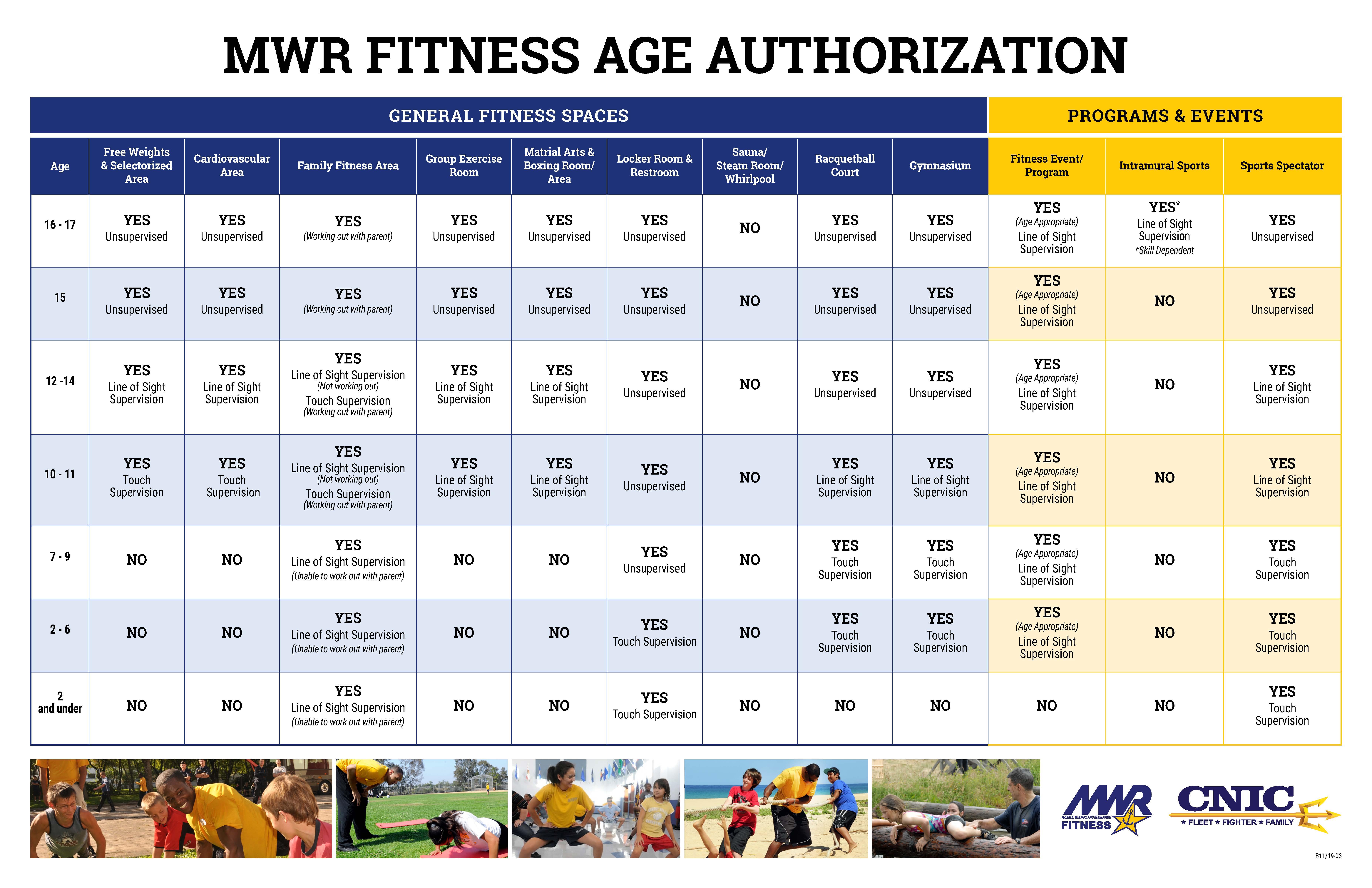 CLASS DESCRIPTIONS
Body Sculpting: A challenging workout to build muscular strength, endurance, and flexibility. This conditioning workout will incorporate steps, weights & body bars
Kickboxing: Fight away stress while learning punching & kicking movements.
Body Hiit: Optimize your workout with high interval training that incorporates fat burning with muscle building.
Zumba: A Latin dance-based fitness class. Shake your body & burn calories while learning some new moves.
Mommy & Me: A low-intensity class with strength & flexibility exercises designed for pregnant women and new mothers. Children are invited to attend. (Doctor's clearance required)
Muscle Mix: This non-cardiovascular class is designed to develop muscular endurance, strength and correct posture. Toning & defining of all the major muscle groups will be covered here.
Express Abs: A class that focuses on strengthen your abdominal. This class will push you to your limits with a series of crunches and planks varying in intensities and durations.
Yoga: A class that focuses on ascetic discipline, a part of which, including breath control, simple mediation, and the adaption of specific bodily postures. It is widely practiced for health and relaxation
Functional Fitness: This class is designed to develop muscular endurance and strength. Toning and defining all the major muscle groups will be covered in this class. The class requires previous experience; please call the front desk for more information.
Boot Camp: A high-intensity class with rigorous and structured routines, designed to teach discipline but also burn calories.
Toddler Time: This class is for both toddlers and parents and is designed to promote early development and ascetic discipline in children.
(No aerobic classes based on down days or holidays)
INTRAMURAL SPORTS SCHEDULE
Interested in playing your favorite sport for your unit team? We host the Commander's Cup Intramural Sports Program for Andersen AFB annually. All sports are open to both men and women, with no exceptions. Contact your unit's sports rep or CRFC front desk for more information.
Volleyball
Soccer
Basketball
Football
Softball
The CRFC hosts free 5Ks on Andersen AFB throughout the year! Runs are open to all with base access.
Spin & Aerobic instructors needed. Please contact the Coral Reef Fitness Center for more information.

Your opinion matters! We are conducting a survey to better help serve our Service Members. Click here to take our survey.